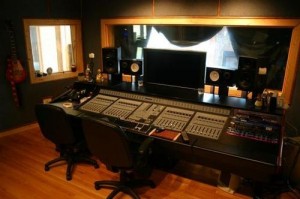 As a Music Producer, one of the most frequently asked questions I get is "Hey Jim, How do you like to schedule your Recording sessions?"
Well, if everyone in the band and/or all the session players can be there, I like to go with Recording A Song A Day.
My reasoning behing recording one song per day is that we can setup and perform with only the one song in mind. The sounds we produce and perform will be solely for the one song. This keeps everyones creative visions and ideas focused on the one sone and only the one song, from start to finish.
I've certainly Done drums for the album first, then bass on day 2, guitars days, 3-4 , etc. This method is very common and works as well, especially if there are scheduling confilcts within the band or with session players. In my experience, this still takes about the same amount of time as a song a day.
One of the other upsides to a song a day is not having to sing and record vocals on 10 songs at the end of the project. This can be stressful for the best of vocalists.
If You can schedule recording a song a day, I strongly suggest this method. Give it a try. Jim
Recording A Song A Day