As a Music Producer, a question I get all the time is "Jim, what's an easy way to convert my Audio file formats?".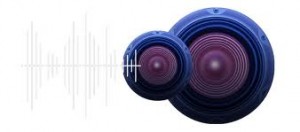 The process of file conversion as related to Audio File Conversion used to be a bit of a pain, but no longer is. I use a very simple FREE desktop Audio Conversion software called Drop A Few My Way.
Drop A Few My Way is a simple drag and drop Audio File Conversion software. You simply place Drop a Few My Way on your desktop or sidebar and drop the audio file you wish to convert onto the icon. Once you have dropped the audio file onto the icon a menu will pop up and ask you what format you wish to convert to. The menu will then ask you where you would like to place the converted file. Nice and Easy!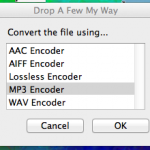 I like to send Mix reference audio files to my artists to listen to in the MP3 format. As you might know, sending a 4MB MP3 file through email is a lot easier than trying to send a 90MB WAV file. This is when a simple audio conversion tool comes in handy.
I typically record and mix at a sample rate of 88.2. Converting my large mix down audio files to a MP3 file is as simple as drag and drop and it only takes second.
Drop A Few My Way is one of the music production tools I consider a must. It's Free and saves me a lot of time and as you know, time is money. It's a win win! Check it out! Jim
http://dougscripts.com/itunes/scripts/ss.php?sp=dropafewmyway