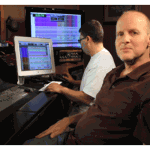 Jim now resides on the east coast in the Washington, D.C. area. Jim works with indie, major label and developing artists as a producer and mixer.
Jim also shares his passion for music by teaching recording, mixing and producing. Check out Jim's small group and one on one classes at the Cue Center For Audio Engineering.
Check out the Music Production program in the video below.

Cue Recording Studios – Producer School from Wandering Hat on Vimeo.